Well, massive thanks to everyone who played a part in giving the Frederik Sandwich series such a successful launch. Brick & Mortar Books hosted a wonderful launch party, and a huge crowd came along. Click to watch a few of the highlights:

I imagine every writer dreams that one day they'll walk into a bookstore and see the book they made up in their head, sitting there on the shelves for others to read. Certainly that was the case for me for many, many years. So it's a genuine dream come true for me to see Frederik Sandwich in so many stores, and in the hands of readers in the USA, England, Denmark, Norway and more besides.
I have some exciting book events coming soon. I'll get the opportunity to introduce Frederik and Pernille at schools in Leavenworth and Tacoma, libraries in Wenatchee and Sammamish, and frankly, anywhere else they'll have me. Book #2 is in its final editing stages, and a framework for Book #3 is ready and waiting.
Over the months ahead I'll blog about those books, the process of writing and publishing them, and the weird and wonderful people I meet along the way. So stay tuned! And thank again for contributing to the launch of Frederik Sandwich!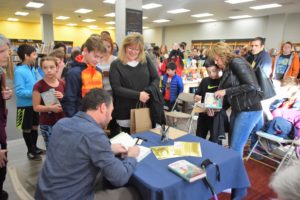 Comments