NaNoWriMo Write On Workshops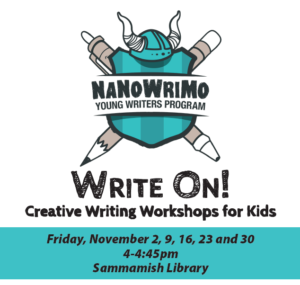 This November, kids can take part in National Novel Writing Month (NaNoWriMo). Join me for writing workshops that are out of this world! You will create characters, weave wild plots and build cities with words.
We supply the pencils and paper, you bring your imagination. For ages 8 to 12.
Sammamish Library
825 228th Ave SE
Sammamish, WA 98075
__________________________________________
Learn more about my School Events